买礼物不知道送什么?度假出行不知道该准备啥?墨尔本文波雅思为你带来老外眼中居家旅行必备的十大时尚新奇产品,价格由低到高排列,用途广泛经济实惠,送礼也显得新颖上档次,考试时也可以成为为你加分的亮点描述对象,快来好好了解一下吧!
Whether it's scaling an icy cliff or racing down a rocky mountain pass, adventurers need a lot of gear(探险装备) to support their epic pastimes("史诗般的消遣",地道搭配形容精彩刺激的娱乐活动). But what do you get for the adventure junkie (上瘾者)who seems to have everything? We rounded up(聚拢,集合)the must-have items, many of which cost less than $30, for that special daredevil(蛮勇不怕死的人) in your life.
Hot Hands hand warmers, $6.99 暖手宝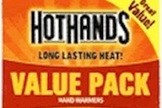 Hand warmers are perfect for those who want to actually feel their fingers while skiing, snowshoeing (走雪路)or camping in the mountains. These hand warmers release heat via a chemical reaction as soon as you open the package and expose them to air. They'll keep hands or toes toasty (暖和舒适的)for up to 10 hours. They're also environmentally safe, meaning you can toss them in the trash when they're all used up. And their low price makes them a simple stocking stuffer (贮存的填充物)for the adventure-seekers in your life.
Fozzils Solo Pack, $13.66 折叠餐具套装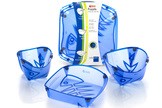 The Fozzils folding bowls and cups provide a lightweight, ultra-cheap option (轻便超省钱)for dining out in the wilderness(荒野). Let's face it: Eating out of actual dishes, rather than the pot you cooked in or a plastic bag, lends a veneer (表面,虚饰)of civilization and comfort to roughing(加工) it. Luckily, these slim(细小的), plastic bowls won't add pounds to someone's pack, as the complete set weighs just 4 ounces (0.1 kilograms). The unfolded(展开的) bowls also lie flat for easy packing.
Smart-wool outdoor Light Pattern mid-crew socks, $14.61 智能保暖羊绒袜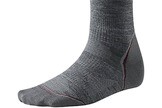 Keeping your toes toasty can go a long way toward making you feel comfortable when snowshoeing, skijoring (滑雪橇)or downhill skiing. These smart wool socks are ultra-warm, just like ordinary wool, but unlike the scratchy (刺痒刮人的) wool socks that grandma wore(老奶奶穿的), these are not itchy at all. Plus, they're lightweight and machine-washable(可机洗). They also have specialized ventilation zones (通气区域)that wick moisture away (毛细作用吸走潮湿水分)and regulate temperature in just the right spots(关键部位调节温度). For the fashion-conscious(时尚意识), the socks come in multiple colors (多色可选).
Leatherman Style CS multi-tool, $17.43 莱特曼CS多功能工具刀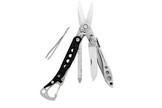 Whether it's for cutting food or hacking her way to survival(砍出一条生路), every good outdoorswoman needs a solid knife. This multi-tool includes a knife, scissors, a nail file (指甲锉刀)and tweezers(镊子), as well as Phillips and flathead screwdrivers(平头螺丝刀). The tool also provides a carabiner-type hook (扣状钩)to fasten onto clothes or backpacks, so it doesn't get lost.
LifeStraw Personal Water Filter, $19.95 私人净水吸管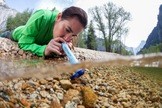 For those heading out into the wild for a long time, the LifeStraw personal water filter can save you the trouble of hiking in with a huge cache(存量) of water on your back. The tiny, lightweight device filters out (过滤掉)99.9999 percent of all bacteria(细菌) and 99.9 percent of all protozoans(微生物), such as Giardia lamblia in potentially contaminated(潜在被污染的) water. The portable device can filter up to 264 gallons (1,000 liters) of water without adding iodine(碘), chlorine(氯) or other purifiers(净化物质) that can leave an unpleasant aftertaste(留下不好的味道). And let's hope it never comes to it, but in a real bind(在紧要关头,习语搭配), the LifeStraw can allow people to filter their own urine (尿液)when they're stranded (陷入困境的)without a water supply.(——!)
Luci inflatable lantern, $24.99 浪漫太阳能充气灯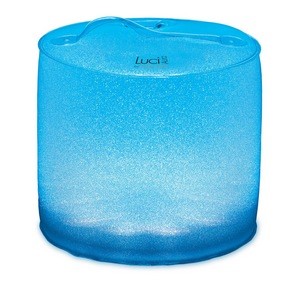 The Luci inflatable solar lantern is waterproof, packs to a compact size(小型包装) and can be recharged (循环充能)throughout the day to provide light for atmospheric ("大气的",户外气氛的)nighttime camping. The lanterns can change to one of seven different hues(色调), including bright white for reading. The elegant design (高雅的设计)and multitude of hues mean the lanterns aren't just useful for the wilderness: They would make great mood lighting (情绪照明)at a dinner party as well.
Amphipod Xinglet vest, $27.49 户外反光安全背心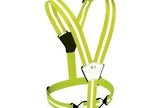 For those who fancy a quick jog(慢跑)or bike in pitch darkness(高度黑暗), this reflective running or biking vest will make someone visible for oncoming drivers from all angles(360度无死角). The vest is brighter than other reflective clothing, and snaps on and off (快速扣上、脱下)easily. It's also lightweight, meaning it won't make people any sweatier than their ultramarathon(超级马拉松) training otherwise would.
GoPro Hero, $139.99 户外运动录像机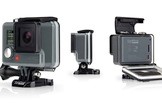 The GoPro Hero provides a way for adrenaline junkies("肾上腺素中毒者",户外运动爱好者昵称) to immortalize their escapades(记录下他们夸张越轨的行为), from hiking up to the mouth of a bubbling pit of lava (喷涌的火山口)to scuba diving into the deepest underwater sinkhole(河沟,海沟) or adventure-biking along the rocky cliffs (颠簸的悬崖)of the Isle of Skye. The GoPro Hero captures high-definition video and works in water up to depths of 131 feet (40 meters). The starter kit includes a head mount (头部底座)and extra disc drive. Those who want to share photos or videos via Wi-Fi or Bluetooth can opt for(选择)the pricier (更贵的)GoPro Hero+.
Even those who already have a GoPro can use additional accessories(附加配件). Selfie sticks(自拍杆) make you the star of your own adventure, and extra battery life is a must for those hoping to capture every moment of their all-day escapes.
Patagonia R1 Hoody, $146.90 R1户外套头冲锋衣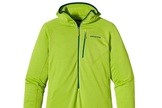 The Patagonia R1 Hoody has a cult(狂热信徒) following amongst avid(热切渴望的) outdoorsmen. That's because it's the "Goldilocks" layer(完美的保护层) for outdoor adventures: a solid midlayer that's not too hot and not too cold. The unique engineered fiber is breathable and stretchable(可呼吸,可拉伸), and packs down to almost nothing(超轻薄折叠). It has a front zipper for venting(透气) when it gets too hot, thumbholes in the sleeves for when it gets chilly and a slim zipper-pocket for holding essentials. At just 12.85 ounces (364 grams), the shirt is lightweight. The hoody is available for men and women in a variety of colors.
Osprey Poco Plus child carrier, $181.96 多功能亲子背包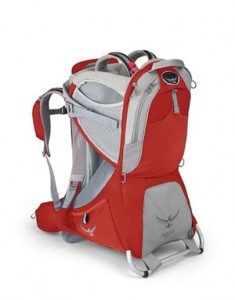 Getting outdoors can be challenging with little ones in tow(带着孩子), but the Osprey Poco Plus child carrier keeps both parent and tot(孩子)comfortable on long hikes. The backpack provides adjustable harnesses (可调整吊带)that make it a good fit for both tall and short people, a hydration sleeve for water(水合作用套袖) and a built-in sunshade(遮阳板) so little ones can nap. The backpack has 0.875 square feet (23 L) of storage space for essential gear. The backpack also comes with a spot for quickly attaching a separate day pack, which older tots can carry when they decide to walk. The carrier can lug(支撑,托重) kids who weigh up to 48.5 lbs. (22 kg), so even 5-year-olds can take breaks in the carrier if they're feeling tired. (Though you will really, really want a kid that heavy to walk!)
更多精彩尽在墨尔本文波雅思!